Staff Training and Development
Staff Training and Development
We are committed to helping everyone who comes to SJOG achieve their personal best, and as part of this we offer a comprehensive package of training for all of our colleagues.
SJOG's training academy - the Ministry of Hospitality is a hub for all of our online and face-to-face training and development.
Every role has a training pathway and every colleague receives certificates and accreditation.
Below are some of our courses available on line until the end of the year (bookable via the SJOG portal). ! Colleagues – please check regularly as more courses will be added during the course of the year.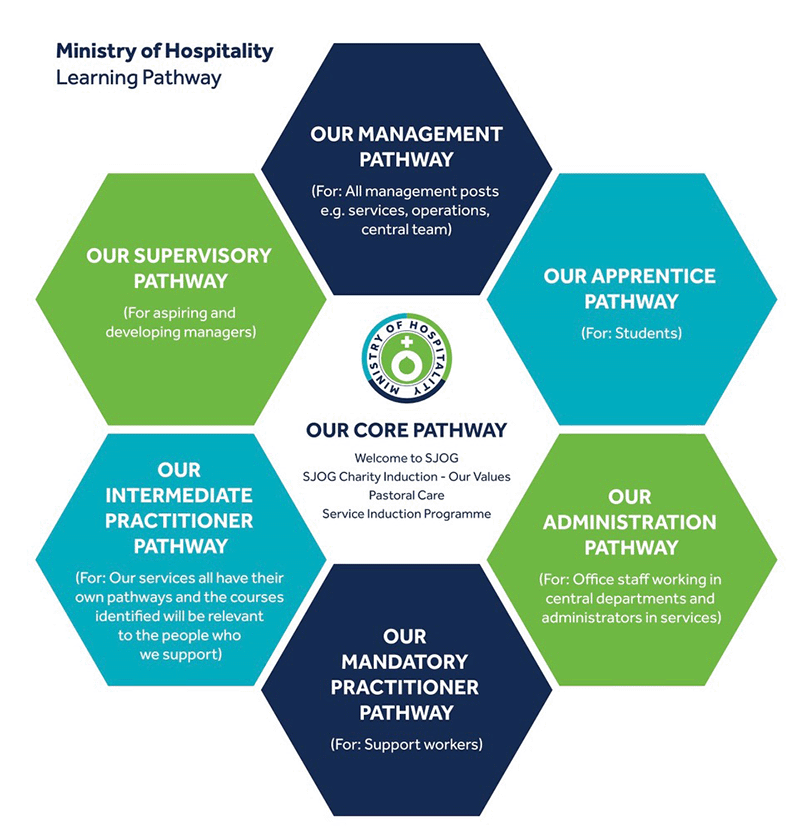 Full Risk Assessment on MST:
5 July 2023
23 Aug 2023
Sept 2023
29 Nov 2023
13 Dec 2023
SJOG Induction:
27 Jun 2023
15 Aug 2023
10 Oct 2023
12 Dec 2023
Modern Day Slavery Awareness Course:
4 Sep 2023
4 Dec 2023
Information Security Awareness Session:
27 Jul 2023
10 Aug 2023
24 Aug 2023
7 Sep 2023
21 Sep 2023
5 Oct 2023
19 Oct 2023
2 Nov 2023
16 Nov 2023
30 Nov 2023
14 Dec 2023
28 Dec 2023